On September 20, Apple updated the operating systems on most of its devices.
We have already used their beta versions and are talking about selected innovations that are worth paying attention to. There are few of them this year, and many features have been postponed altogether (for example, the function of sharing movies and listening to music – SharePlay).
The weather app has received a total redesign. The information in it is now displayed more clearly, and the visualizations have become even more detailed. The first thing after installation is to find some location in which it is raining, and play with the new animation – the drops beautifully bounce off the applications icons. In addition, in the list of locations, you can now enable push notifications about the imminent start of rain, says DTF.
FaceTime has once again been significantly updated amid the pandemic. There is spatial audio (the sound comes from the side of the talking interlocutor's icon), and a new mode for displaying mass video calls, and voice isolation using neural networks, and the ability to schedule calls by sharing a link with the participants in advance.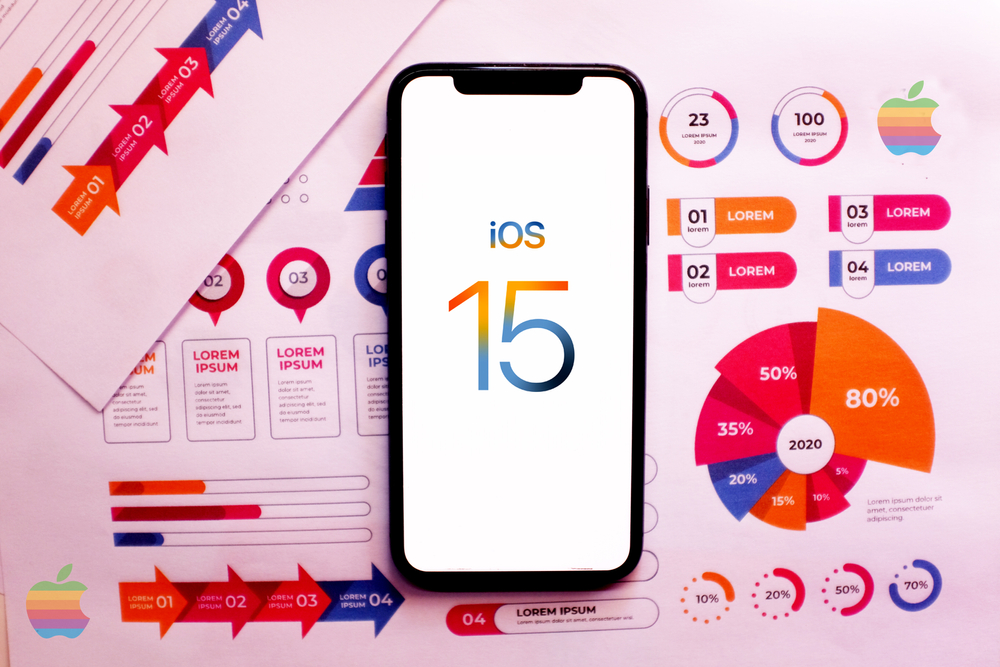 Simplified data transfer to iMessage – now photos and links sent to you are stored in a special folder, and you can send beautifully designed photo galleries to each other. You can now set up multiple modes of your phone, tablet, and Apple Watch based on your busy schedule. For example, at night you can leave only notifications from the closest people and hide annoying red stickers on icons, and at work you can skip information only from important applications. When the mode is turned off, missed notifications are displayed in the form of a compact report.
Safari has been reimagined. The browser line has been moved down (but you can return it to the top if you wish), and its header is now painted in the color of the site you are on. Apple said goodbye to the tab-flipping deck of cards – in the new version, thumbnails are displayed like book covers in iBooks and can be combined into groups. In addition to this, the browser received support for extensions from the App Store and learned how to detect data trackers that the user encounters on the network. Before you return the browser line to the top, try to switch bookmarks by swiping on it – you quickly get used to it.
Redesigned "Memories". The neural networks of the iPhone now not only group your photos by location and topic, but also select music from Apple Music that matches the mood for them, notes NIX Solutions.
Recognition of text on photos. It can be found at "Settings", "General", "Language and Region", "Online Text". After that, your iPhone will begin to see text everywhere – in the camera application, in the gallery, and even in pictures in Safari. What is nice, the feature was immediately combined with the translator.
Updated system search. Spotlight can now search for text in pictures, as well as links and files sent to you in iMessage.
Siri now recognizes speech right on the device. The data is not sent anywhere, and the function is now faster.
Tags and search by them appeared in "Notes".
Another iOS user can now be made a proxy who can restore access to your device if something happens to you.
The size of the text in all applications can now be changed like the volume – directly from the curtain "Control Center". Only first you need to add this button there through the settings.
Camera "night mode" can now be turned off if it gets in the way.
IOS now has a system setting for video playback speed.
The location of your iPhone will be tracked in Locator even if it is turned off – it will start operating in ultra-low power mode and send data to the owner in the manner of AirTag beacons.
In the "Privacy" section, you can now enable tracking of all actions of applications and see what they often access and what data they share.
iPadOS 15
The tablets will bring all the basic features from iOS 15, as well as a few devices that are unique to this class of devices.
This year, Apple finally gave the iPad normal widgets – they can now be placed anywhere, like on an iPhone.
The iPad added the "Application Library", in which you can hide rarely used icons.
Multitasking on the tablet has improved significantly. Now you can work with applications on iPadOS in several ways at once – equally share the screen between two programs, throw one of them into a hidden curtain, or even open a new window on top of two already active ones – almost like in desktop operating systems. In addition, you can now form pairs of app directly in the window for switching between them – by simply dragging and dropping.
You can now quickly create short, contextualized notes on your tablet. For example, you can highlight an interesting paragraph on the site, and it will be immediately saved along with the link. Moreover, Safari will remember that you left yourself some kind of memo on this page and will allow you to quickly jump to it. Short notes are stored in a separate folder of the respective application.